Maria Lexhagen, Professor of Tourism Studies, Mid Sweden University, Etour
Many destinations in the country now market themselves as sustainable destinations. But few have actual knowledge of the extent to which visitors perceive and experience the fulfilment of this promise. Maria Lexhagen and her colleagues at Etour will investigate the links between visitors' perceptions of sustainability and the branding of the High Coast.
What is the project about?
– Destinations and companies can be afraid both of insufficiently communicating their sustainability efforts and of exaggerating and making promises they cannot keep. We will study how the sustainability work at the destination is perceived by visitors and what value it creates for them. We will also investigate whether branding can encourage sustainable behaviour amongst visitors, strengthen the value of the brand and ultimately contribute to the green transition of businesses in the hospitality sector.
What are you going to do?
– Together with our partner Höga Kusten Destinationsutveckling AB, we will start by conducting a guest survey this year to establish the current situation regarding the value visitors perceive from their visit. We use a way of measuring the brand value of tourist destinations from the visitor's perspective that we have previously developed and applied to other destinations. During the project, we will develop the measurement method and tool to include the visitors' evaluation of sustainability aspects.
Höga Kusten Destinationsutveckling AB's 2030 hospitality strategy includes the question of how sustainability work should be communicated.
– We will also conduct an online experiment to test how different sustainability efforts can affect the attractiveness of the brand and its ability to fulfil the promises made in marketing and communication. Amongst other things, we look at how the destination's work with storytelling can be used.
What are your challenges?
– There are always challenges in conducting surveys on people's experiences and perceptions. However, through our close co-operation with Höga Kusten Destinationsutveckling and companies in the area, and by conducting several different surveys, we can ensure high quality and reliable results.
How does this benefit the hospitality industry?
– The hospitality industry faces challenges in matching its green transition with visitors' increasing and changing demands for sustainable destination experiences. Our aim is to develop a useful, science-based and relevant evaluation tool to understand the visitors' evaluation of sustainability aspects. Destinations and businesses will be able to use this to customise their communication efforts towards different target groups. This will provide the opportunity to gain in-depth knowledge of the visitors and thus support the work of developing the brand with a focus on sustainability. With this, we hope to contribute to the green transition in the hospitality industry.
Partners
The project is carried out in co-operation with Höga Kusten Destinationsutveckling AB. The municipal company includes the municipalities of Härnösand, Kramfors, Sollefteå and Örnsköldsvik. The company-owned Höga Kusten Turism includes 125 companies.
Read more on the Etour website here.
Project facts
Project
Attractiveness and the green transition – a web-based branding experiment for the sustainable development of the hospitality industry
Research organization
Mid Sweden University, Etour
Project Manager
Maria Lexhagen
Period
2023 Apr – 2025 Apr
Maria Lexhagen
Professor of Tourism Studies
Photo: Mid Sweden University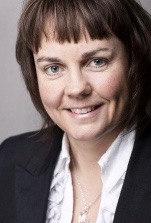 Tatiana Chekalina
Associate Professor of Tourism Studies
Photo: Mid Sweden University